Testimonials

Honiton brass dial longcase clock
"Having searched for an antique clock for several years, I found a beautiful long case, assisted by Chris, of Priory Clocks. The communication and professional service provided has been commendable. Chris has a thorough working knowledge of his entire range of clocks and each is individually and carefully restored to an exemplary standard through skilled craftsmanship. My clock brings my home alive and it's slender style looks wonderful in my small hallway. I will consult Chris again regarding similar future purchases. His honesty and reliability make him a pleasure to conduct business with."
- Anita from Somerset


Grantham painted dial 8 day longcase clock
"Our new clock fits nicely into the space which we had earmarked for it.
It is running beautifully and we thank you, and your wife, for all the help and advice which you gave in coming to the right choice.
We were amazed at the number of clocks you have in stock, and ..............................we shall have no hesitation in recommending you to any prospective clock buyers we meet." - Colin and Marilyn


Buyer of a Moon dial longcase clock.
Nomansland, Devon. Christmas 2015.
"I would like to let you know how very pleased T & I are with our longcase clock. It is an absolute joy, it brings us pleasure every day. You and your team must be so proud that you have given it a new life, and we are proud that we have given it a new home." - Carole and Tony


Oliver & Emily
"We are thrilled with the purchase of our Longcase clock from Priory Clocks. We contacted Priory Clocks via this website and they replied straightaway and we arranged to visit the studio the next day. There we discovered a huge array of clocks and we easily found a clock that matched our exact requirements. Chris could not have been more helpful, honest and knowledgable.
Chris checked the accuracy of the mechanism and then came to our House and set up our clock.
We thoroughly recommend Priory Clocks."
Cheers" - Oliver & Emily


Joan bought the Price, Wiveliscombe 30 hr longcase.
"Received the beautiful long case clock today, I am so delighted and had to say a really big thank you. We set it up and its keeping perfect time so far! chiming well too! I lost my dear father this month a year ago, so I purchased this in memory of my dad. I will treasure it.

THANK YOU" - Joan


Eunice bought a Westminster chiming Smiths Mantle clock which we shipped to Hong Kong.
"Dear Chris. Thanks for your help. The clock now is in my house! I can say I have never seen such lovely packing with all the bubbles protecting a precious gift! You are so considerate to provide me with the instructions also. I am happy to tell you that I can use it immediately. It keeps good time and does chime the exact rhythm I wish. I call my grandma at once and she's happy with this. Thanks God! I don't know how to present my happiness. You've done a GREAT job!" - Eunice

"Dear Chris. Thanks for your help. You are really helpful and professional. From now on, I no longer need to search any antique clock on eBay because I've got the one, the right one!
Of course, you may publish my comments and also the photos on your web-site. It's true! It is worth it. You've done a GREAT job! May God be with you and bless you." - Eunice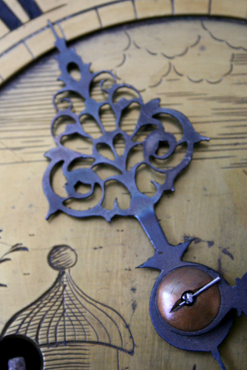 Clocks on display in our Taunton Showroom
at the Crescent. March 2019.